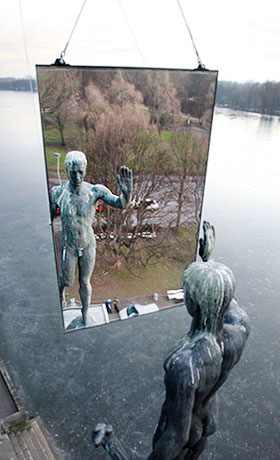 For the installation Arrangement mit Kran, Spiegel, Fackelträger und Stabile, a mirror is placed—with the aid of a mobile 21-meter-high construction crane—in front of the torchbearer figureon the north shore of the Maschsee Lake for a period of two months. The figure's gesture, directed into the distance, is thrown back to the statue itself—creating a narcissistic moment of self-referentiality.
The central perspective of the Sprengel Museum offers a view of the crane and the torchbearer, which form a square arch that visually incorporates Alexander Calder's 1971 stabile Le Hallebardier (The Halberdier).
With his proposal Jüngling mit Fackel (Young Man with Torch),Hannover-based sculptor Hermann Scheuernstuhl won a competition, initiated by Fritz Beindorff, to beautify the promenade of Maschsee Lake. Contrary to the plans, however, the sculpture of the Fackelträger, completed in 1936, was not actually inaugurated at the Olympic-year opening celebrations for the recreation area at Leinemasch. It was not until a year later that the gold-leafed figure was placed upon the 18-meter-high marble column in front of the Sprengel Museum.
There are a few reasons for the early and controversial discussions surrounding the statue: while the newspaper Niedersächsische Zeitung hailed the "athletically trained, well-formed body," consistent with National Socialism's cult of the body, rumors that the sculpture included Masonic symbolism dampened enthusiasm.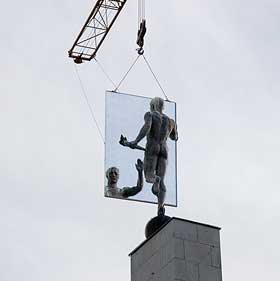 This suspicion was based on the fact that Fritz Beindorff belonged to the Masonic Lodge Zum Schwarzen Bär, from 1923-1930. In 1982 the statue was restored and the gilding was removed, confirming the figure's darker side: its origins in the Third Reich, which unleashed heated public debate in the 1990s. Descriptions of the torchbearer ranged from "monumentally heroic, with Hitler salute" to displaying "a gesture of the right arm present already in ancient statues" to "the attitude of the torchbearer—as often in sculptures by Scheuernstuhl—is self-contradictory: moving forward and floating." Subsequent a thorough historical analysis by Hannover officials, the figure was fitted with a text panel in 2011 that identifies it as a relic of the Third Reich.


© 2009 Ulrich Genth and Heike Mutter